Conferernce Proceedings
Accepted papers after proper registration and presentation have been collected in the International Conference Proceedings Series by ACM (ISBN: 978-1-4503-7216-9)
* DSDE 2019 conference proceedings has been archived in the ACM Digital Library already.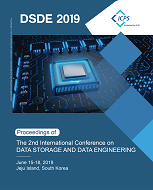 DSDE 2019
2019 2nd International Conference on Data Storage and Data Engineering (DSDE 2019) was held at Jeju Island, South Korea during June 15-18, 2019.
The evaluation of all the papers was performed based on the reports from anonymous reviewers, who are qualified in the field of Data Storage and Data Engineering. As a result of their hard work, we are pleased to have accepted 15 presentations from New Zealand, China, Thailand, Indonesia, Taiwan, South Korea and Egypt. The presentations are divided into 2 breakout sessions with topics including Artificial Intelligence and Applications; Computer Vision.
The chairpersons, invited speakers and session chairs played important roles in conducting the conference in a timely and efficient way. Though it is in a small scale, the conference served as an excellent platform for researchers, engineers, academics as well as industrial professionals to present their research results and exchange ideas more closely.